As PE Coordinator of Normanby Primary School, I want to tell you about how we plan, monitor and report on the impact of our PE and Sport Premium funding.
Planning Stage:
The whole planning process starts with a self-review of the school's Physical Education provision at the start of each year. We have used a self-review template in the past and more recently a quality mark.
This gives a baseline for developments needed in PE, Physical Activity and Sport for that year. It also identifies progress and areas for development.
We believe high quality Physical Education is the key area for development in our plans, knowing that a positive, engaging teaching and learning experience in curriculum PE will lead to a desire to have healthy active lifestyles and participation in school sport will follow.
The Redcar & Eston School Sport Partnership (SSP) provide our school with a local development document which helps us to structure our planning effectively. This planning tool compliments national templates and the SSP staff support us to write and develop this action plan.
Our action plan is split into three areas:
Improvement of Physical Education;
Improvement of Healthy Active Lifestyles; and,
Improvement of Competitive School Sport.
At the beginning of the academic year the school identifies areas for development in all three categories. Actions are created, linked to the PE and Sport Premium funding key indicators, and each action has a 'child-centred' outcome.
For example, we achieved an 'Increase in the Physical Literacy skills of the children in EYFS', by a teacher attending an early years course designed to support practitioners and families to develop their competence and confidence to ensure every child is physically literate.
Staff that attend training cascade their learning at whole school staff meetings to ensure maximum impact. We don't want to write actions such as '3 teachers to attend a Gymnastics course'; we want to make sure our developments are based on the children's needs.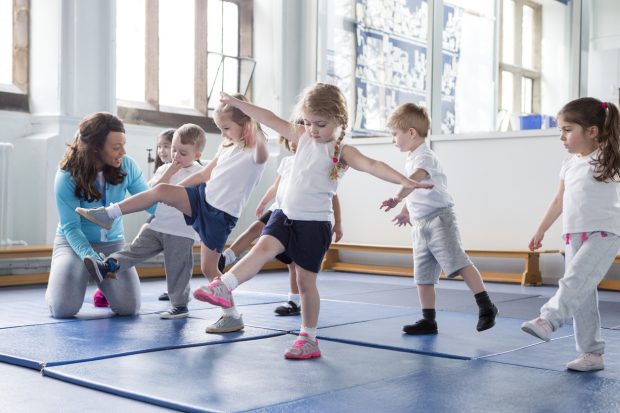 Monitoring Our Progress:
Activities, progress and impact is reviewed termly and red, amber, green (RAG) rated. This helps us keep on track of what we need to do for the academic year. It also gives the SSP an idea of what they need to support us on.
At Normanby we always dig a little deeper into the progress we have made to make sure that we are indeed making an impact. We do this by evaluating each of the programmes/actions/activities that we offer to ensure that we are making a difference.
A question that is always at the back of our mind is 'so what?' For example, we have attended 6 more competitions this month... 'so what?' What difference did this make to the young people involved?
We try to capture this through general observation skills, talking to the children, asking the class teachers, speaking to parents, surveys, monitoring registers, and tracking the children's participation levels through our tracking system.
Reporting the Impact:
Each term the action plan is updated to include the RAG rating and uploaded onto the school website. In addition to this, we produce a separate report summarising the 'effectiveness and sustainability of the Sport Premium Funding', which outlines the developments we have made and the impact it has made on the children, including their attainment.
The report also explains how each development is being made sustainable.
An example of impact:
In 2015/16 - to engage all pupils in regular physical activity, and contribute to whole school priorities, Normanby staff attended courses on active literacy and numeracy. As a result lessons are now more active, which links nicely to the key objective of 30 minutes daily activity in school for children that they are trying to achieve this academic year.
I have been really impressed with the developments within the school, in particular how they link these to their whole school priorities. The progress they are making is visible when we see how active, physically literate and enthusiastic their pupils are at SSP events. - Claire Tennyson, Redcar & Eston School Sport Partnership.
Overall, we feel that rigorous planning and effective continuous monitoring allows us to make the very most out of our PE and Sport Premium investment. We constantly refresh our plans to meet the needs of our children and can see a tangible difference by investing time in this process.