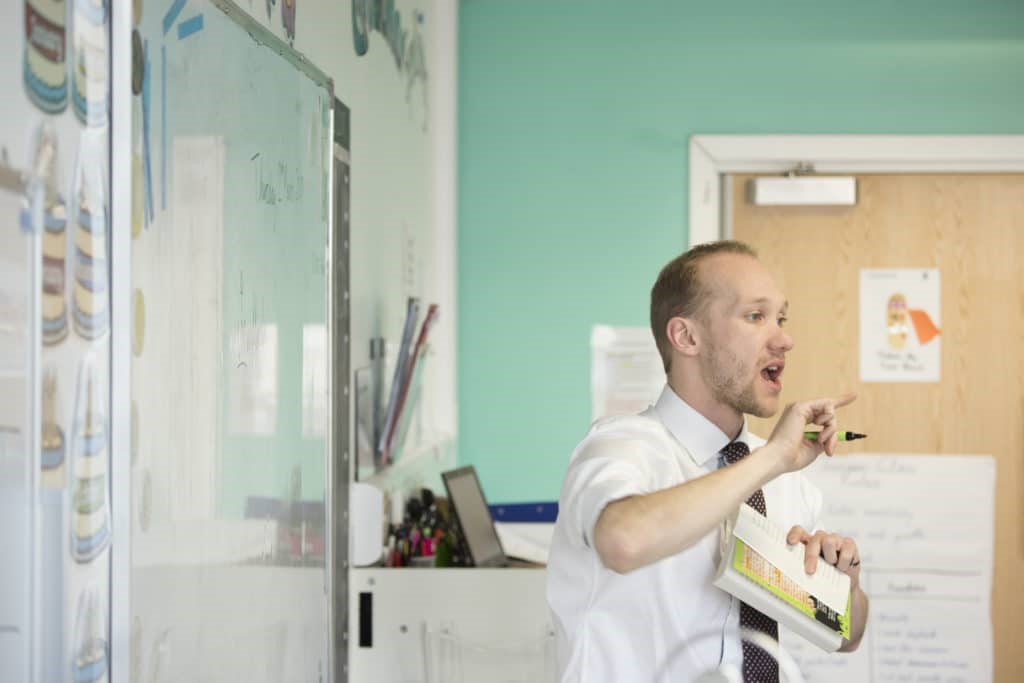 Jon Hutchinson is Assistant Headteacher at Reach Academy Feltham and was involved in the development of the Early Career Framework. He writes about how changes to statutory induction will help new teachers starting this September.
We all remember our first year in teaching. For any new teacher it's a steep learning curve (to put it mildly!), and this year's trainees have also had to face the challenges and disruption caused by the COVID-19 pandemic. The experience of new teachers can also vary from school to school, meaning that teachers do not always get the consistent professional development that is crucial to their – and their pupils' – success.
From this September, the way that we induct new teachers into our profession will be changing, and it's going to be even better. The new Early Career Framework (ECF) reforms will make it a statutory requirement for any school inducting new teachers to offer them a two-year package of high-quality professional development.
So, with the disruption that lockdown brought largely behind us, now is the time to prepare for these changes. First, though, let's be clear on what exactly will be new:
An early career teacher's induction period will be two years long
The Early Career Framework, which outlines the best available evidence of what teachers should know and be able to do, will underpin this induction period
Mentors in schools will support new teachers to understand the evidence base provided by the ECF and translate it into classroom practice
Teachers should have two formal assessments: one at the end of each induction year, supported by progress reviews in each term where there isn't a formal assessment.
We know more about how pupils learn than ever before, we know what great curriculum design looks like, how to assess pupils effectively and support pupils with special and additional needs, and so much more. This evidence has fed into the ECF; organised under each of the Teacher's Standards as 'learn that' and 'learn how to' statements.
The role of mentors within schools will now be more important than ever and for the first time the role is clearly defined. They will nurture, champion and help develop the early career teachers in their school. As a teacher who sat on the ECF group, I know how important this mentor role is. And when we consulted the profession on the changes, it was clear that appropriate funding and support for the role would be make or break.
So, there are two pieces of good news. First, schools will have access to freely available online materials created by four educational providers. These are truly excellent, and I've thoroughly enjoyed playing around with the different platforms and watching the training videos. Second, early career teachers will have additional 5% non-contact time in their second year, with funding to support that. Mentors' non-contact time in the second year of induction will be funded too.
Schools retain autonomy in terms of how they deliver induction. There are three routes that you can go down:
Use a DfE-funded training provider to design and deliver ECF-based induction programme of your behalf
Use freely-available DfE accredited materials to deliver your induction programme.
Design and deliver your own induction programme based on the ECF
Crucially, the ECF will not act as an additional bureaucratic burden for schools. The framework is not an assessment checklist, and there is absolutely no requirement to gather evidence or assess teachers against the statements.
We can't wait to get started planning an amazing induction programme this year. We'll be following the recommendations of the Education Endowment Foundation's findings following the piloting of the ECF, which suggest:
Integrating the ECF into existing school processes.
Allowing time for mentors to fully engage with the materials on offer and the new requirements set out in the framework.
Allowing the early career teachers time for autonomy and self-directed study.
More information on the Early Career Framework reforms
The ECF reforms will be rolled out nationally from September 2021. If a school offers statutory induction, it will need to replace its current induction process with this new funded programme of training and support.
Find out more about the reforms, including how schools can meet statutory requirements and the funding available to all schools, on gov.uk