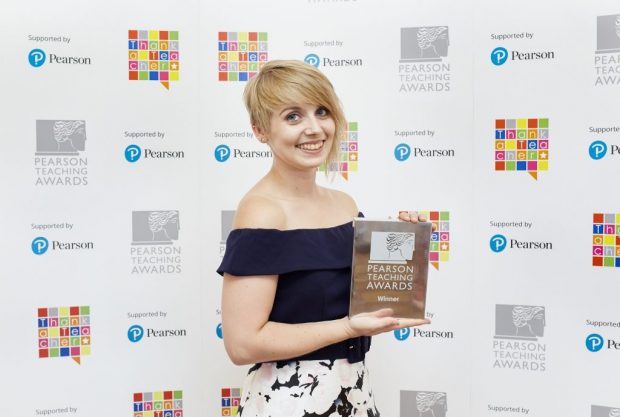 The National Teaching Awards, run by the Teaching Awards Trust, celebrates teachers' exceptional achievements. On 16th September the silver winners of this year's Teaching Awards were announced, of which the Department for Education is proudly sponsoring two award categories.
Charlotte Grace - a science teacher at Outwood Academy Shafton - won the Outstanding New Teacher of the Year Silver Award two years ago. We asked her what it's like to win an award and how it has impacted her early career so far.
What do you love most about teaching?
Every day is different! Teaching truly allows you to be a part of transforming the lives of the students we work with – you might be the teacher they remember for a lifetime and still talk about to their own children! There is such a range of opportunities and experiences that teaching has enabled me to be a part of, including leading staff development, school visits, extracurricular activities, curriculum development, and so much more!
What was it like to win the Silver Award for Outstanding New Teacher of the Year in 2018?
I am still absolutely overwhelmed, two years on from the experience! One of the greatest memories of winning the Award was the presentation that Outwood Academy Shafton organised as part of Thank a Teacher Day. This was very emotional as one of my students presented me with the award!
A few weeks later I was invited to the House of Commons for a reception with all other Silver Award winners. I attended with my colleague and friend and it was an amazing opportunity, to meet with like-minded individuals.
The main highlight was being a part of the Teaching Awards Ceremony where the gold winners were announced. This was also televised as Britain's Classroom Heroes on BBC2. I didn't know that my Business teacher from my time at Outwood Academy Freeston (formerly Freeston Business and Enterprise College), Ed Vickerman, was going to be there as alumni at the event – what a brilliant surprise! He was a gold winner of Outstanding New Teacher Of The Year Award in 2009 and is now a headteacher.
Two years on – what impact has it had on you personally and on your career?
Due to winning this award, I was given the opportunity to coordinate all early career teachers across Outwood Academy Shafton to ensure they felt supported and developed. From this, I am now lucky enough to be working as Assistant Principal within Outwood Grange Academies Trust, and supporting our early career teachers with the Outwood Institute of Education and the Teach North team. I am so privileged to be able to pass on my passion for teaching with Teach North!
Why is it important to celebrate teachers' achievements?
Sometimes, just a student saying "thank you for a great lesson!" feels like all the praise you need! But it is so important that teachers realise how important and valued they are, and what an incredible job they do every single day. The profession can be demanding, and the current situation presents new and unforeseen challenges, but teachers across the country are taking the 'new normal' in their stride and deserve praise for doing an incredible job! Teachers need to know that they are appreciated by those around them and have the motivation to be the best teacher they can possibly be.
What message do you have for today's silver winners today?
Embrace every minute of it and use it as a platform to celebrate the teaching profession! Overall, any opportunity to be involved with the Teaching Awards should be taken, as it has been a wonderful experience for both myself and my Academy. I am proud to have been a part of the National Teaching Awards and have memories from these events to last a lifetime!
And, finally, can you share any advice for new teachers starting this year?
It is a time of uncertainty at the moment, so it is most important to embrace the change and remember it is all different for the students too, who might also be trying to adapt to the 'new normal'. Consistency and routines for you and for your students will be key.
More importantly, enjoy it! Make sure you find and utilise your support network - you are not alone! There are professional bodies (both in subject and teaching), in-school support, and other early career teachers in school who are all there to look after you and help you to flourish!
---
Congratulations to all 2020 Silver Award winners!
This year the Department for Education is sponsoring two Teaching Awards again - Lifetime Achievement and Outstanding New Teacher of the Year.
To be shortlisted for this award from thousands of applications across the UK is a fantastic achievement. We congratulate all of the Silver Award winners, especially the ten in the DfE sponsored categories. Thank you for your hard work and good luck for the Gold Awards later this year. You can read more about all of the winners on the Teaching Awards website.
The Award for Outstanding New Teacher of the Year, supported by the Department of Education
Kirsty Gaythwaite, Goodwin Academy, Deal, Kent
Adam Higgins, The Royal Liberty School, Romford, Essex
Oliver McIntyre, Hillcrest Shifnal School, Shifnal, Shropshire
Ashleigh Sinclair, Northern Counties School, Newcastle, Tyne And Wear
Kate Woodward, Lyndhurst Primary and Nursery School, Oldham, Greater Manchester
The Award for Lifetime Achievement, supported by the Department of Education
Tony Bennett, Balcarras School, Cheltenham, Gloucestershire
David Horn, Beckfoot Trust, Bradford, West Yorkshire
Paul Phillips CBE, Weston College, Weston-super-Mare, North Somerset
Dr Andrew Szydlo, Highgate School, Highgate, London
Catherine Taylor, Aspire Federation, Wigan, Greater Manchester
__
Want to celebrate a great teacher?
Don't forget, you can thank a colleague or a former teacher by sending a free personalised card on the Thank a Teacher website.