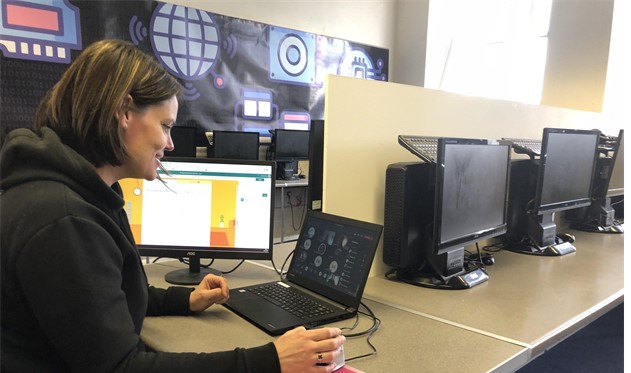 To celebrate International Day of Women and Girls in Science, we spoke to Karen Morris, an inspirational computer science teacher based in Stroud, Gloucestershire. Karen talks about her career, encouraging more girls to take GCSE Computer Science, and how the National Centre for Computer Education (NCCE) has helped her to feel more confident in her teaching practice.
What inspired you to teach computer science?
I taught geography for ten years before starting at Stroud High School as a part-time teacher of IT (the second subject of my PGCE). After a few weeks, I was appointed as the Head of Department for IT. Six years later, with the new GCSE qualification, I recognised the need for change to computing at the school.
I attended the NCCE's Computer Science Accelerator course in the summer of 2018. At the same time, we became part of the CyberFirst schools' initiative run by GCHQ and the NCSC. These two things kickstarted me into being very proactive and positive in my teaching, and I started to offer my students computing-related enrichment experiences outside the classroom. I'm at a girls' grammar school (boys in the sixth form), and my female students have really made the most of these opportunities, with GCSE Computer Science take-up increasing year-on-year.
Why do you think there's a gender imbalance in students choosing to study computer science?
I think computing is still viewed as a male-dominated industry, and historically the media hasn't highlighted many female computing role models. This can have an impact on the type of careers girls choose to pursue. There is an unhelpful perception that anything to do with computer science is nerdy, and this stereotypical image is continually portrayed and reinforced by the media, which compounds the problem.  We must consistently show girls that a career in computing is for everyone. It's crucial that we make the subject look and feel open to all genders.
There are lots of examples of incredible female computer scientists out there. Why is it important to celebrate the contributions that women have made to computer science?
Celebrating the achievements of trailblazing female computer scientists is fundamental in showing girls that women have always been there but have just been less visible in the media. When they see that women have always been in this industry, it helps to boost their confidence and show them what they can aspire to do. For example, when we watched Hidden Figures at school together, the girls were incredulous that women were held back by both their gender and their ethnicity, and that they had fought very hard to even get to that position.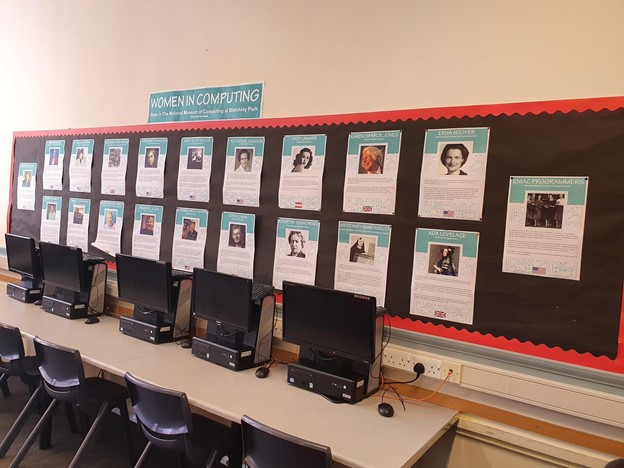 What are you focused on at the moment?
I'm finding that cyber security is currently the topic that I find most exciting. This has probably been encouraged by the fact we are a CyberFirst silver school, and we have such good links to GCHQ. It's not only that though: I feel that computing is an area that applies to everybody, whether you're a computer science student, or professional programmer, or a member of the general public.
What would you like to change about the way the world sees computing?
There's definitely been a shift in trying to highlight women in this area, and my non-computing teacher friends have noticed it too. I still think more could be done to facilitate further change though. One great decision was introducing computing at primary level. It's really shifted computing to be seen as normal.
Have you noticed any changes in computing education now more lessons are being delivered remotely?
The students have been working just as hard and they've said that the lessons are very similar to the way they would've been delivered in school for their GCSE and A level classes. I think this is because we use a flipped classroom approach as it lends itself very well to online learning.
What would you say to a girl who is thinking about getting into computing?
I would absolutely say go for it!  If I could rewind my time and do it all over again, I would have learned about computing from a much earlier age. It's an expanding industry that's only going to keep growing, so it's definitely an area to consider for a future career.
How has the NCCE and its Computing Hubs programme supported you?
The NCCE has been vital in helping me to feel more confident in this area, and I'm sure that applies on a national level too. I have been on courses through the NCCE and its Computing Hubs, and being able to speak to people who are more qualified and experienced than I am has helped me considerably. Everybody has been exceptionally helpful and supportive.
Visit the NCCE's websites:
Teach Computing (key stages 1-4):  a superb range of free curriculum teaching resources, courses and accreditation, community support and more – all expertly designed to support high-quality teaching of computing.
Isaac Computer Science (A level):  a platform loaded with free learning resources covering the
full A level Computer Science specifications for AQA and OCR, plus A level CPD for teachers and workshops for students.
Also take a look at the Gender Balance in Computing programme to see what the NCCE is doing to find out what works for getting more girls interested in computing.
Want to receive blog posts in your inbox?