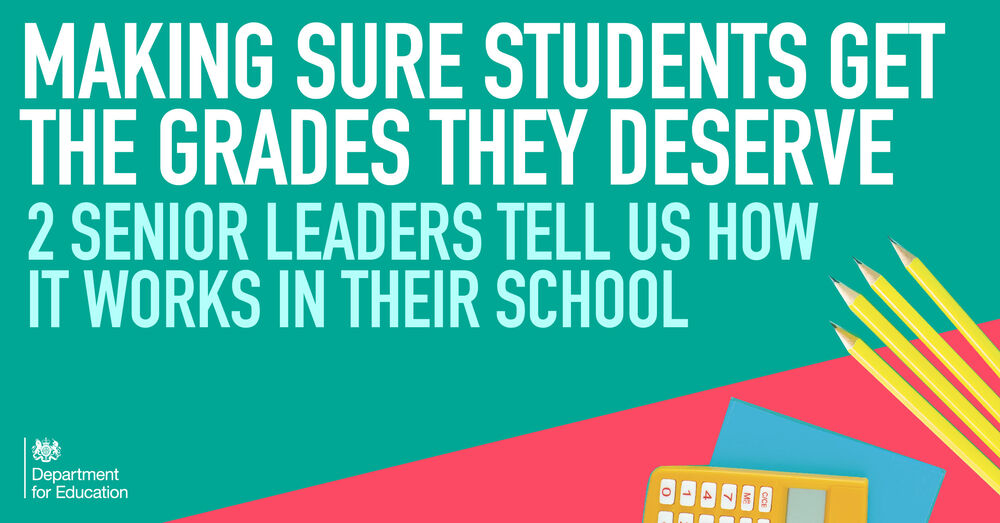 We asked two senior leaders to share how their schools are making sure the teacher assessed grades their students receive this summer are fair and reflect the hard work students have done in such an unusual year.
Andrew Beavis, Deputy Headteacher at Copthall School in North London.
As we head into the final term of what must be the most unusual year that anyone who's ever worked in education has encountered, I continue to be impressed and inspired by my colleagues, not only in my own amazing school but in schools up and down the country as they throw themselves into a second year of determining final grades for students who should have been sitting their summer exams.
While the need for teachers to award the final grades following such a turbulent year is the most sensible and fair thing to do, the responsibility this places on teachers and schools is not to be scoffed at. However, assessment is part of teachers' DNA - understanding the standard at which a student is working and how they can develop and progress is second nature.
So that we can make sure assessments are objective, we are anonymising work by asking students to write only their candidate numbers rather than their names. This means that teachers can mark work 'blind', avoiding any factors that may influence the process. Teams are also pooling their marking so that teachers don't just assess their own class's work, but instead a range of work across the year.
May and June will be busy months for teachers and school leaders but establishing a whole school approach to the process of awarding grades that sits fully in-line with the national guidance will hopefully ensure that all our students are treated fairly and are awarded the grades that they deserve.
Fuzel Choudhury, National Director of Education at E-ACT multi-academy trust
It's our priority to ensure our students are awarded the fairest grades and we're working closely with our students to ensure they face no disadvantage because of factors that no one could have predicted.
We're using a whole range of evidence to make a judgement on students' grades. This includes coursework, classwork or mini one-hour internal assessments, using unseen, abridged versions of papers issued to us by exam boards. In some cases, we are also conducting student interviews in subjects like modern foreign languages where verbal assessment is required.
Once a teacher has determined a student's grade, it will be reviewed by other teachers within the academy. Furthermore, we've paired academies within the Trust so we can cross-moderate results for absolute fairness.
We know this is a stressful time, but it is important for students to remember that their hard work has not been in vain and that the skills they have learned will be invaluable as they progress onto the next stage of their lives.
What you need to know about grades in 2021
GCSE, AS and A level exams will not be going ahead as planned this summer. Instead, students will receive grades determined by teachers, and will only be assessed on what they have been taught, not what they may have missed. Read our blog on what this means for you.