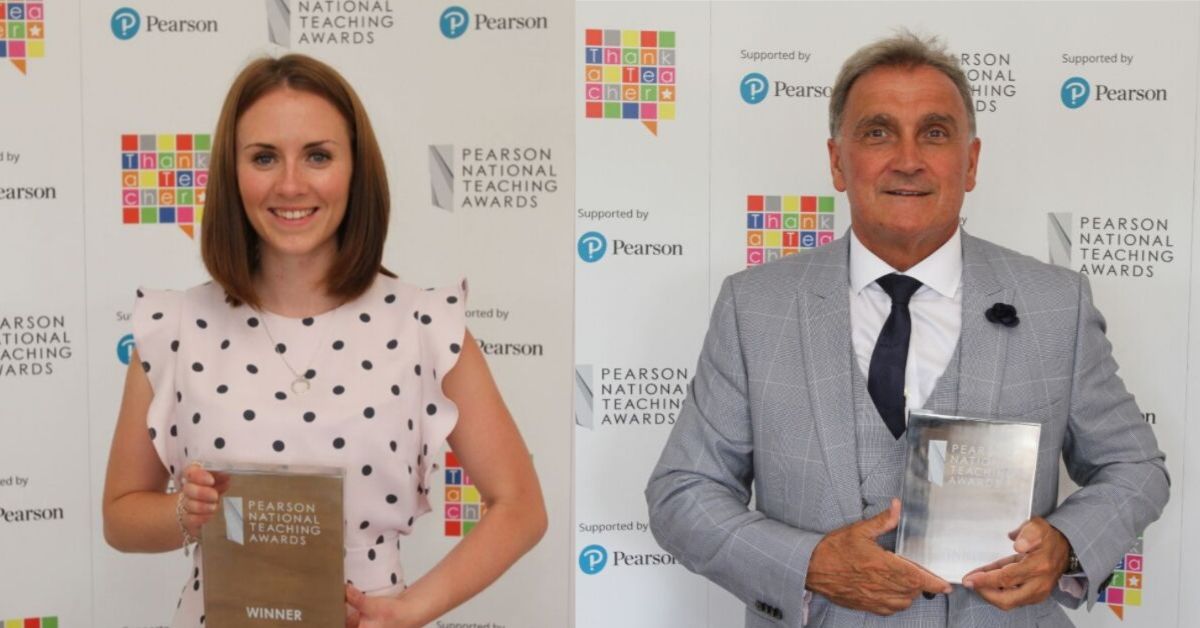 Two teachers reflect on why they think being a teacher - with all its ups and downs - is the most rewarding job around.
Teachers Frank McCarron, and Natalie Wilsher have had a particularly memorable year. Frank, Executive Principal of Stockport Academy, won a Silver Award for Lifetime Achievement, and Natalie, who recently started her career at The Gryphon School (Dorset), won Silver Award for Outstanding New Teacher. As the summer term comes to an end, they reflect on this year's highlights, lessons learnt and how their students continue to inspire them every single day.
Natalie Wilsher, The Gryphon School
What has been special about this year?
I have spent much of this year learning a new role as Deputy Head of Year. It has been an excellent experience working closely with our year 9 team as well as getting to know some of our students very well and supporting them through their highs and lows. Pastoral work, as tiring as it is, is so rewarding!
What challenges have you overcome?
Work-life balance has been a big one for me. At the start of this year, one of my colleagues said to me, 'fill your own cup first'. I try very hard to live by this rule now, and participate in school wellbeing activities as well as making time for my own things outside of school. It's very hard as teachers to switch off but if we have nothing in our own 'cups', we can't share this with our students.
What lessons have you learnt as a new teacher?
​Never judge a book by its cover. Always check in with those that seem 'fine'. Don't quit. And just when you think you have run out of energy, you can always muster up that last little bit of strength to help a student in need.
How have young people inspired you this year?
A few of my Year 9's cut their hair and donated it to a children's charity. I was so moved at such a thoughtful and inspiring gesture that I decided to do the same! These wonderful students never stop inspiring me!
Frank McCarron, Stockport Academy
What has been memorable for you about the past year?  
Reaching 25 years as a headteacher has been a memorable milestone for me this year. Many past pupils and past colleagues have sent me many wishes of congratulations which in turn made me think about all the wonderful moments that I have had over my career. This has given me the opportunity to reflect on the lives that I have been privileged to have an impact on over the years.
As an Executive Principal, what inspires you?  
My students are a daily inspiration for me. I am motivated and driven by them and their ambitions. One of my students arrived in the UK as a refugee from Uganda in Year 11 and lived in a hostel throughout sixth form. Despite experiencing huge hardships, she had an unwavering work ethic and achieved a place at Oxford University. This student, along with so many of my students, is a role model for me in how they embrace challenges with maturity and resilience.
What lessons have you learnt this year?
Over the course of this year I have learnt, as I do every year, that you are never too experienced to learn from your colleagues and that students will always surprise you with their resilience, humility and desire to do well.
In working with a number of challenging schools I have learnt that inspirational teaching and learning can change lives and equip our students for the future. One of my colleagues started mentoring a pupil with poor behaviour. Through this process, the pupil's behaviour transformed as he came to realise that this was caused by his mental health. He now speaks openly to hundreds of young people about his own mental health and encourages them to talk. I have learnt that if you give young people the time and support they need, they will flourish.
I feel honoured to working in a profession where you can change the lives of young people, and as a result, change the lives of families and local communities and raise aspirations. Great teachers always write on the hearts and minds of young people and the effects are everlasting.
___
Teaching Awards
The Teaching Awards is an annual celebration of exceptional teachers, created to recognise the life-changing effect an inspirational teacher can have on the lives of the young people they teach.
To thank teachers for their incredible achievements, the Department for Education is supporting the Teaching Awards and sponsoring two of this year's awards - Outstanding New Teacher of the Year and Lifetime Achievement. You can read more about all of the winners on the Teaching Awards website.  
Thank a Teacher
If you have a colleague or a former teacher of your own that you'd like to thank, you can send them a personalised card for free by visiting the Thank a Teacher website. 
Teacher Effect
To hear more inspirational stories from teachers about what makes them proud, watch our Teacher Effect videos.
___
Want to receive blog posts in your inbox?