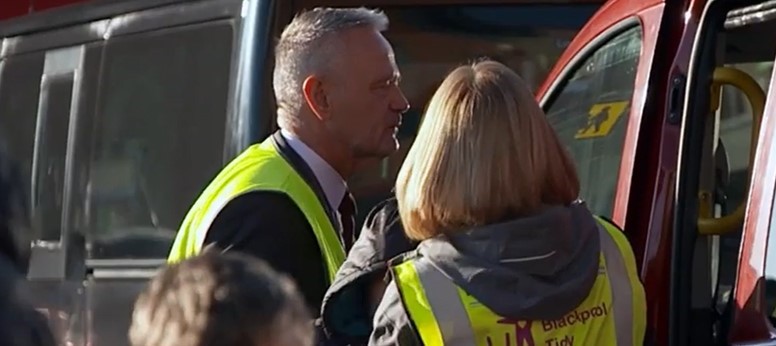 Keith and Gill have been working together as a senior leadership partnership at Park Community Academy (PCA) in Blackpool for over 10 years and last year Gill nominated Keith for the Lifetime Teaching Award. Here they share how they've supported each other, what makes a good partnership and why you need to take the time to celebrate successes.
Spotting and nurturing talent
Keith: At PCA we want everyone to have the opportunity to grow and succeed so that they feel valued, proud and fulfilled. We reflect this across the school and have many 'home grown' members of staff. Gill is one of these: she joined as a part time teacher and has progressed to Deputy Headteacher. We worked together so that she could challenge herself to work with different age groups, students with more complex needs and taking on varying leadership roles across the school.
Taking steps into leadership
Gill: Keith has been instrumental in my career progression. He spotted potential in me and mentored, coached and challenged me over the years. It is important to recognise that moving into senior leadership is a journey. As I grew in confidence, I grew into different roles - from part time teacher to full time teacher, Team Leader and Assistant Head before becoming Deputy Headteacher.
What makes us click
Keith: We have worked collaboratively through all the challenges senior leadership brings, from academisation to doubling the intake of the school. We play to each other's strengths and support weaknesses in each other. The team is only as good as the people around you. Gill and I make time on a daily basis to catch up and reflect on all aspects of our work as well as with the wider team. I am a firm believer that informed people are supportive people.
Celebrating the big and small achievements
Keith: For us, the ability to recognise and celebrate the achievements of others, however small, is so important in creating a positive atmosphere. Teachers are great at celebrating the successes and achievements of our pupils - but we don't always take the time to do this for colleagues. So we make sure to celebrate all staff; personal and family milestones; sporting, theatrical or professional triumphs; and good practise and successes in the workplace.
Saying thank you
Gill: As part of our culture of celebrating success, I had been wanting to nominate Keith for an award to show how much I and the school appreciate him. Keith has devoted his life to ensuring the very best for children and young people with SEND. He's an inspirational leader and we wanted to make sure he knew that. After he led us through our Outstanding Ofsted, it felt like the right time and in 2019 I nominated Keith for the Teaching Awards Lifetime Achievement Award…. and he won!
'Stunned, humbled and proud'
Keith: At work I make it very clear that "I don't come to school expecting surprises". So, when I was informed that I was a Teaching Awards finalist - it left me feeling nothing less than stunned, humbled but extremely proud as I come towards the end of my 43-year teaching career.
When we showed the BBC broadcast of the Teaching Awards ceremony, 'Britain's Classroom Heroes' at school, the children loved seeing themselves, their friends and their teachers on TV! Everyone in the school community has been buzzing with pride and excitement that their school has been in the news and on TV. Of course, the Teaching Awards are not purely about individuals or groups of teachers. They are, most importantly, about celebrating and recognising the achievements of whole school communities.
Our joint achievements
Keith & Gill: The main achievement that we are both very proud of is the open climate and sense of community that has been developed across the school over many years. Those who visit PCA comment on how happy and welcoming staff and pupils are. Modelling how we want staff to behave has played a key role in creating the positive ethos and culture so that everyone delivers enthusiasm and positivity. We try our best to bring an infectious enthusiasm to our work on a daily basis.
Do you know a brilliant senior leader or teacher?
Nominate them for a Teaching Award and they could be in with the chance of winning an award on BBC's 'Britain's Classroom Heroes'.
Watch why Keith won the Teaching Award:
Want to receive blog posts in your inbox?