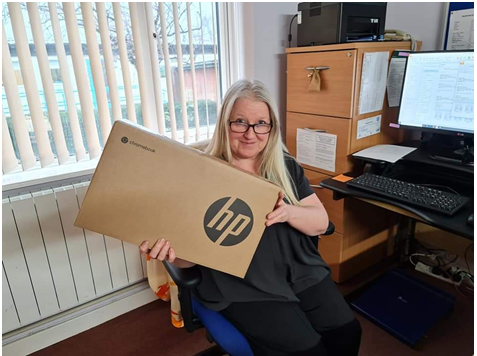 Andy Chase and Terri Wyse from Woodfield School in Surrey give us a five-minute guide on what they have learnt from adopting an online digital platform and why its use will outlive the pandemic for Special Educational Needs (SEN) provision. 
Adopting an online digital platform has been a positive change for our school and helped us improve the way we work, supporting pupils and addressing some of the issues around teacher workload so we can work smarter, not harder.
Getting started 
Even before the COVID-19 outbreak stopped the world in its tracks, we had started to explore the use of online learning platforms as some of our most complex pupils have significantly high levels of anxiety and a history of school refusal. While we initially only wanted to use Google G Suite for Education for a select few pupils, the COVID-19 outbreak gave us the opportunity to very quickly roll it out across the whole school. We applied for the digital education platform via the DfE's Get help with technology programme and worked with IT supplier Vitalize IT, who helped us get set up.
As with any sudden and significant change, we did face barriers, especially for those who weren't confident using technology. Staff worked very hard to learn quickly and most are now comfortable with the applications. They're teaching online lessons using a combination of pre-recorded videos, live Google Meets sessions and uploading a range of work and activities. Therapies and interventions are also able to continue remotely. Pupils can access remote learning, delivered by their usual class teachers and teaching assistants, while they are in and out of school, therefore allowing us to manage COVID related risks while continuing to provide a broad and balanced curriculum.
Key takeaways as a SEN school 
Teaching and learning in a specialist setting should never have a one size fits all approach and this is also the case for SEN pupils accessing an online learning platform. Aside from the necessity of remote education during the COVID-19 pandemic, we have also found that online platforms can be used to benefit a number of pupils who often prefer this method of delivery as an alternative way to engage. For example, we have a number of pupils with Autistic Spectrum Disorder who can find conventional school learning difficult to engage with. For these pupils, using online learning can alleviate a number of social anxieties and triggers, helping them to better engage and make progress. Regardless of what happens with the pandemic, it's a new and effective way for us to help provide those learners with an alternative method of delivery to help meet their specific needs.
At the heart of our curriculum is our drive to prepare our pupils for adulthood and the world of work. Home working is the way of the world at the moment, with the majority of us now interacting with colleagues and other professionals virtually. The fact that our pupils are learning to confidently use this technology will surely benefit them as they grow, move on and gain future employment.
Sharing these learning experiences
Despite the barriers our pupils often face, almost all have risen to the challenge and are proving they are more than capable of using technology to aid their learning. As a SEN school, we've overcome significant challenges and want to offer our experience and expertise in this area to help advise and support colleagues in other schools, both SEN and mainstream. We are aiming to become a Google reference school once we've been using the platform for a year.
Any teacher will tell you that the last year has been stressful, the hardest time in most of our careers, but that some things have been really positive. The support from the DfE, both getting the online platform and providing the school with Chromebooks for our disadvantaged pupils, has been extremely beneficial.
Get help with remote education
The Department has published a package of remote education support for schools on GOV.UK, including guidance and resources to support pupils and students with special educational needs and disabilities (SEND).
Find out how to apply for government-funded support to help you access one of two free-to-use digital education platforms, G Suite for Education or Office 365 Education, and access to support from the EdTech leaders and Demonstrator Network at Get help with technology on GOV.UK.
Want to receive blog posts in your inbox?